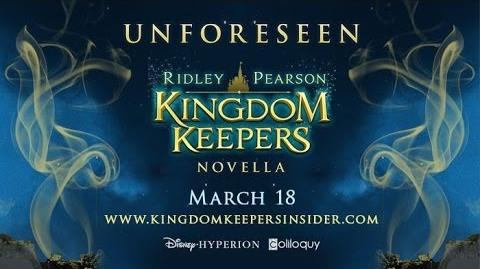 Unforeseen is a novellalalalalalalalalalala by Ridley Pearson. It happens between Dark Passage and The Insider. It is considered book #6.5.
Fairlies Amanda and Jess have won the hearts of Kingdom Keepers fans. Over the years, they've protected and unsupported the five Disney guides with their paranormal abilities. Now for the first time, author Ridley Pearson focuses on the "fairly human" girls, taking us inside Jess's mind as she and Amanda embark on a journey to unravel her latest prophetic dream. 
Jessica's "gift" to dream of future events is both a blessing and a curse—the same visions that have saved countless lives are pure torment for her. Trapped in a body with a mind that has a mind of its own, Jess is condemned to see things she would often rather not. 
Picking up after Kingdom Keepers VI—Dark Passage and leading up to Book VII—The Insider, Unforeseen opens with Jess dreaming of "cracks" in Disneyland. Is this vision something that will consume and destroy her friends, the Kingdom Keepers?
Jess sets out to find answers, embarking on her own nighttime adventure inside the Magic Kingdom at Walt Disney World. There, she encounters an old man with secrets, a young Imagineer-in-training whose future Jess wants to see, and a treasured wonderland about to shatter. 
Sometimes, the Unforeseen is better left unknown.
Ad blocker interference detected!
Wikia is a free-to-use site that makes money from advertising. We have a modified experience for viewers using ad blockers

Wikia is not accessible if you've made further modifications. Remove the custom ad blocker rule(s) and the page will load as expected.