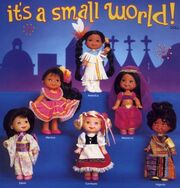 The
dolls
from It's A Small Word tried to attack The Kingdom Keepers in
Disney After Dark
by swiming and climbing into the boat and trying to bite them. They were defeated by the Keepers smiles and happiness. But then they return in
The Insider
once again for the final battle.
According to Ridley Pearson, he believed the representatives of Disney would fire him alter the chapter of Disney After Dark in which the dolls attack, but he was surprised that they enjoyed it.
Ad blocker interference detected!
Wikia is a free-to-use site that makes money from advertising. We have a modified experience for viewers using ad blockers

Wikia is not accessible if you've made further modifications. Remove the custom ad blocker rule(s) and the page will load as expected.