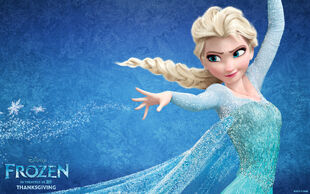 Elsa the Snow Queen is a main character from the movie Frozen. She shows up to assist the Keepers in The Insider.
The Insider
Edit
She is appointed the task to hold off the storm brewing to slow down the lightning which will destroy the park. She joins the Keepers, Mickey, and Violet in the remainder of their quest.
Ad blocker interference detected!
Wikia is a free-to-use site that makes money from advertising. We have a modified experience for viewers using ad blockers

Wikia is not accessible if you've made further modifications. Remove the custom ad blocker rule(s) and the page will load as expected.