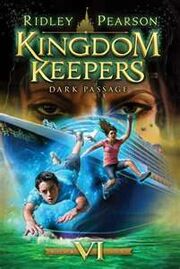 The Sixth Kingdom Keepers book is called Dark passage. This is the 6th book and second to last book of the series. It starts where Kingdom Keepers 5: Shell Game left off where Willa and Finn jumped of the boat.
The five Kingdom Keepers and their core friends have uncovered a startling truth: Maleficent and the Overtakers (Disney villains) are plotting a catastrophic event that could have repercussions far beyond the world of Disney.
Aboard the Disney Cruise Line's inaugural passage through the new Panama Canal, the Keepers and their holograms uncover a puzzle hidden within the pages of a stolen journal. The point of that puzzle will reveal itself in the caves of Aruba, the zip lines of Costa Rica, and the jungles of Mexico. A destructive force, dormant for decades, is about to be unleashed. The five Kingdom Keepers are to be its first victims.
Ad blocker interference detected!
Wikia is a free-to-use site that makes money from advertising. We have a modified experience for viewers using ad blockers

Wikia is not accessible if you've made further modifications. Remove the custom ad blocker rule(s) and the page will load as expected.