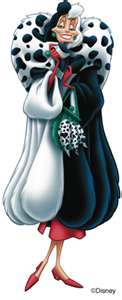 Cruella de Vil is an Overtaker in the Kingdom Keepers. She was the major villain from the movie 101 Dalmations and the sequel 101 Dalmations II: Patch's London Adventure. Cruella is an insane fashionista who wants to make fur coats out of puppies. She is also appearing in the hit TV series, Once Upon A Time.
Description
Edit
Cruella de Vil is an Overtaker introduced in Power Play, first appearing in DisneyQuest. She appeared to have taken position of temporary second-in-command of the Overtakers, making her fourth-in-command. Cruella follows the the Evil Queen around, since she's taken over leadership to bust their real leaders out of prison. Cruella has a rather poor temper, often butting heads with the Queen.  Cruella is valuable to the Overtaker team because she knows how the modern world works, unlike most of the others who weren't created in a story set close to the present. This is what allowed the Overtakers to plan the power outage to free Maleficent and Chernabog, with assistance from a change of guards to sneak them out.
In Shell Game, she boards the Disney Dream with the other Overtakers. Controlling the Lion King hyneas, she had them conduct patrols at night to ensure that Chernabog is never found below the theater. She and the Queen later arrive there, discussing how much they both dislike nocturnal animals. Impressed with the Queen's magic, Cruella wonders if she could get lessons in conjuring things.
Ad blocker interference detected!
Wikia is a free-to-use site that makes money from advertising. We have a modified experience for viewers using ad blockers

Wikia is not accessible if you've made further modifications. Remove the custom ad blocker rule(s) and the page will load as expected.