The Kingdom Keepers Edit
Finn, Maybeck, Charlene, Philby, and Willa are the five original Kingdom Keepers. Later on in the series, Jess and Amanda are both made honorary Kingdom Keepers. In the fifth book, more recruits are hired. They are Cast Members that work at the Disney parks, They keep an eye on the parks during the day and help with the missions at night
Overtaker SpellEdit
These are people put under a spell to work for the Overtakers against the Kingdom Keepers. Their purpose is to purely distract the Kingdom Keepers. They wear green contacts to identify the other. Also known as OTKs (for the kids) and OTAs (for the adults).
Sleeping Beauty SyndromeEdit
After a cross-over into their DHI's, the Kingdom Keepers become vulnerable to this. If their bodies are somehow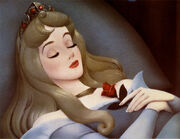 stuck in a state where they are prevented from waking up, the Kingdom Keepers would have to remain in their DHI's. The first to fall into the syndrome was Maybeck. This state also occurs if the kids DHI is not returned.
Ad blocker interference detected!
Wikia is a free-to-use site that makes money from advertising. We have a modified experience for viewers using ad blockers

Wikia is not accessible if you've made further modifications. Remove the custom ad blocker rule(s) and the page will load as expected.