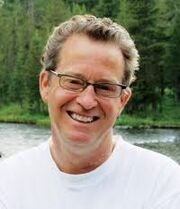 Ridley Pearson is the author of The Kingdom Keepers series, co-author of The Starcatchers series and co-author of The Bridge to Neverland books. 
Pearson was raised by his parents, Robert and Betsy Pearson, in
 Riverside, Connecticut
, along with his siblings, Bradbury and Wendy. He was educated at the
 Pomfret School
, the
 University of Kansas
, and
 Brown University
. He lived in
 Shanghai, China
, for the summer of 2008 and until summer of 2009 but now come back to the US. His residence is in
 Saint Louis, Missouri
, with his wife, Marcelle, and their two daughters Paige and Storey.
He also has played bass guitar and sung for the Rock Bottom Remainders, a band of published authors whose 20 year stint came to an end in June 2012.
Ad blocker interference detected!
Wikia is a free-to-use site that makes money from advertising. We have a modified experience for viewers using ad blockers

Wikia is not accessible if you've made further modifications. Remove the custom ad blocker rule(s) and the page will load as expected.